Japanese Aerospace Quality Group
About "JAQG"
The Japanese Aerospace Quality Group (JAQG), which core members are Japanese leading aerospace companies, is a quality-related organization which was established within The Society of Japanese Aerospace Companies (SJAC). JAQG aims to improve quality and cost saving, through activities such as establishment of standards and certification scheme for quality management system.
JAQG Organization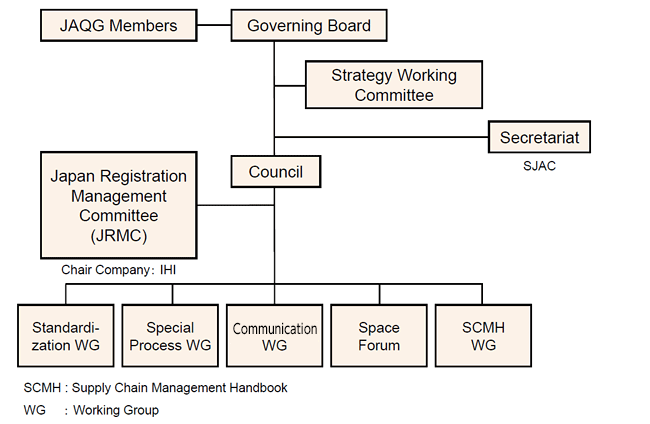 Total 503 companies
Regular members 76
Support members 415
Related organizations 12
(As of Dec. 07, 2020)
Chair Company: KHI

Chair Company: KHI

Chair Company: IHI

Chair Company:KHI
Member Companies:
MHI,IHI,SUBARU,ShinMaywa
Shimadzu,SPP,Nabtesco
MELCO,NEC

Published Standards
Japan is developing and maintaining Japanese aerospace quality standards, such as JIS Q 9100 and SJAC standards, which are technically equivalent to standards developed by IAQG. JSA is publishing these standards.
Contact; Japanese Standards Association (JSA)
Customer Services Division Standards Promotion Department
Tel: +81-3-4231-8550 Fax: +81-3-4231-8665
E-Mail: csd@jsa.or.jp Web: http://www.jsa.or.jp
Number
Revision
Title
Language
Price
SJAC 9068
A
Quality Management System - Requirements for Aviation, Space and Defense Organizations - Supplements to JIS Q 9100 for Establishment of Robust QMS
JApanese
JPY 1,944
JIS Q 9100
2016
Quality management systems - Requirements for aviation, space and defense organizations
Japanese
JPY4,320
SJAC 9101
F

Quality Management Systems Audit Requirements for Aviation, Space, and Defense Organizations

Japanese
JPY4,104
SJAC 9102
B
Aerospace First Article Inspection Requirement
Japanese
JPY2,808
SJAC 9103
A
Variation Management of Key Characteristics
Japanese
JPY2,916
SJAC 9104-1
-
 Rquirements for Aviation, Space, and Defence Quality Management System Certification Programs
Japanese 
JPY8,640 
SJAC 9104-2
A
Requirements for Oversight of Aerospace Quality Management System Registration/Certification Programs
Japanese
JPY7,020
SJAC 9104-3
-
Requirements for Aerospace Auditor Competency and Training Courses
Japanese
JPY4,212
SJAC9107
A
Direct Delivery Authorization Guidance for Aerospace Companies
Japanese
JPY3,240
SJAC 9110
B
Quality Management Systems - Requirements for Aviarion Maintenance Organizations
Japanese
JPY5,076
SJAC 9115
A
Quality Management Systems-Requirements for Aviation, Space and Defense Organizations-Deliverable Software(Supplement to JIS Q 9100:2016)
Japanese
JPY4,320
SJAC 9116
-
Aerospace Series - Notice of Chamge(NOC) Requirements
Japanese
JPY5,076
SJAC 9117
-
Delegated Product Release Verification
Japanese
JPY1,512
SJAC 9120
A
Quality Management Systems - Requirements for Aviation, Space, and Defense Distributors
Japanese
JPY4,752
SJAC 9131
A
Aerospace Series - Quality Management Systems - Nonconformance Data Definition and Documentation
Japanese
JPY2,160
SJAC 9131
B
Aerospace Series - Quality Management Systems - Nonconformance Data Definition and Documentation
Japanese
JPY2,916
SJAC 9132
-
Data MATORIX (2D) Coding Quality Requirements for parts marking
Japanese
JPY1,728
SJAC
9134
-
Supply Chain Risk Management Guideline
Japanese
JPY3,780
SJAC 9136
-
Aerospace Series - Root Cause Analysis and Problem Solving (9S Methodology)
Japanese
JPY6,480
SJAC 9138
-
Aerospace Series - Quality Management Systems Statistical Product Acceptance Requirements
Japanese
JPY14,040
SJAC 9145
-
Aerospace Series - Requirements for Advanced Product Quality Planning and Production Part Approval Process
Japanese
JPY3,564
SJAC 9146
-
Foreign Object Damage (FOD) Prevention Program - Requirements for Aviation, Space, and Defense Organizations
Japanese
JPY1,512
SJAC
9162
A
Aerospace Operator Self-Verification Programs
Japanese
JPY1,404
Contact Us
JAQG Contact: Takayoshi Maehata- SJAC (jaqg@sjac.or.jp)